TR
: Can you give me the short history of The Checkerboard Inn and the area?
RG: This [the bar] was the original homestead. And the in the early days, and this dance Hall part of the bar was the original homestead cabin. It was in 1923 that this was built. In 1927 they decided to make a restaurant, dancehall and gambling hall and so the additions were built on in 27. The cafe was in the bar part it and there were about five tables and cooking area in the West End of the building. Our kitchen and living room area now was the gambling hall and where we are sitting was the dance hall.
Now this was during prohibition, so they had a still in the basement and served moonshine out of there.
TR: Laughing…
RG: Oh, it was normal for a lot of places the back in those days! Then during the last half the 30s when government started the programs to create employment for the people such as WPA (Works Progress Administration) and CCC (Civilian Conservation Corps) and that kind of thing. They rebuilt the highway through here, and they built the dams that were around here such as Sutherland, Bear, Martinsdale and Deadman. And workers hired for the dam here, Bear, stayed here at the cabins that we have. Six of the seven cabins were built at that time to house workers and they used to get paid here. Fred Sumpter, who owned the place at that time made sure he had enough cash on hand to cash their checks so they would eat here, drink here and stay here, all on a tab and then on payday, he would cash their checks and get paid.
TR: And how much of their paychecks do you think they had left after that?
RG: Exactly! Then that kind of was winding down about 1940. Things were getting completed and the economy was coming back somewhat. Fred Sumpter sold to a family name Meacham and they ran it until the war broke out in 1941 and then they closed because most of the young men were gone. It stayed closed through the war and then my grandparents bought it in 1945. That is the first liquor license which we do have. They remodeled a lot of the inside here and opened the third Saturday in May which happened to be the opening of fishing season. And with a dance band for the grand opening the place was packed. 1947, third Saturday in May.
TR
: Can you tell me a little about the changes you have seen with the Checkerboard community over the years?
RG: Well there were more people living in Checkerboard at that time. My Grandfather did the subdivision that is here and in the 50's the population would have been at its highest. There were quite a few more people, families that were living here. But now we have far more people just coming through. Of course, there is always an up and down in the population here with the people coming in and out. We have always had people from Roundup coming here. That is only 100 miles away but of course 100 miles now is nothing, so we see people coming here from all over.
TR: Tell me a little bit about the people that you have that that stay here on a regular basis. You've got obviously the people who have their trailers, and they and they are seasonal I suppose. Then you have the hunting season and that's probably the busiest time of the year for you?
RG: It is most definitely. We have people come up here who have been coming for years and years. One group from Wisconsin that varies in the number, who come each year because of the license drawing, some of them may not get permits or something. They've been coming here since Sober Pine Valley cabins closed several years ago, but they were always customers here, even back to the mid-60s. And there are always at least 6 in that party but sometimes as many as 12.
TR: Tell me about your favorite times of the year here:
RG: Oh, always the Pig Roast the second Saturday in July, where we have between 120 and 180 people here, from Checkerboard and all over. Then the Croake in the evening when we have music and dancing. We've had people travelling in from the Midwest even Boston MA for that.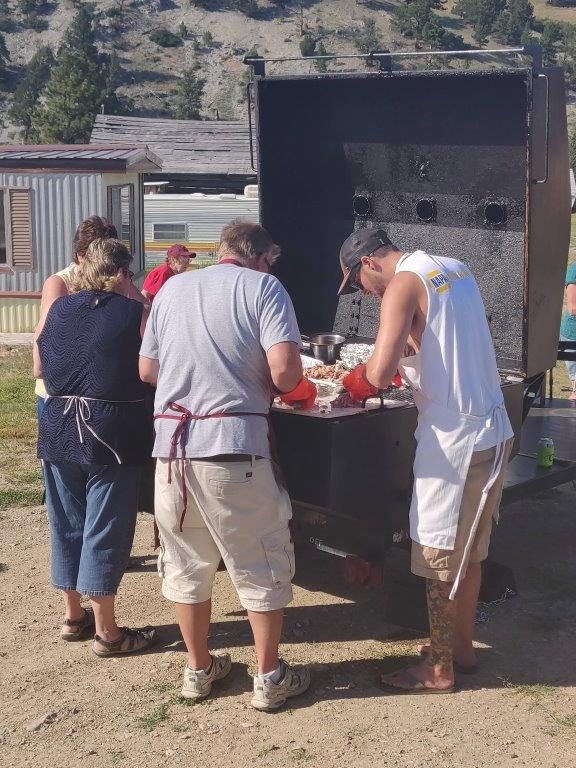 TR: More recently I suppose there's the Red Ants Pants thing in White Sulphur, which is getting bigger and bigger almost exponentially each year. Of course, that will not be the case this year.
RG: Yes, it is cancelled this year, but we get business off at that. People do stay here, and we are generally full for Red Ants Pants.
TR
: Do any stories come to mind of any local characters or anything that you can sort of share with me on some of the people that you've known through the years?
RG: Probably the one most comes to mind is Blondie – Allen Alderman retired up here to a trailer – a little camp trailer, a really little camp trailer, where's the enough room for the bed in one end, table in other and one chair and that was all. He lived here from 1990 till I don't know, 2015? He had acquired ownership of it and that is where he lived. He was a World War 2 veteran and he would he come in each day, would eat here mostly every day. He was a tough old bird because he was too drunk to know what he was doing when he got home one day apparently, because he didn't get the door latch on the trailer, it was only 25 below and that door was standing straight open all night! When we opened here in the bar, he was shivering there, standing next to the stove trying to get warmed up.
TR: Are there any other traditions you have here that you could tell me about?
RG: The Pig Roast is only the best of what we have here, the second best is our maggot races.
TR: OK now you got my attention, do go on.
RG: You take a piece of blank paper and you take shot glass and put it in the middle of the paper and draw circle around it. Then you take a plate that will just sit on that sheet of paper a 10/8-inch piece paper. You draw a circle around it with the small circle directly in the middle right? So, you take your maggots and it's a quarter ante fee to race right? So, say there's three people gonna race this particular race and they get their maggots out. One of 'em's got the food coloring and it's red the other ones got an indelible marker that's black, one of them is plain. OK, so you put him in a shot glass and you shake the class around in a circle and turn it upside down on the center circle. The maggots will go around the edge and they will eventually all line up and start going around the circle. OK when they do that, you lift the shot glass up and watch and they will start traveling and the first one to across the outside circle is the winner of the race.
TR: Do you have it as an annual event, do you publicize it?
RG: Yeah, Usually in March. I can't remember how many of times we've had a maggot race, it is a lot. It is a very inexpensive way to make a drawing of the people.
TR
: You're sort the center of this, admittedly relatively small community but [Checkerboard] is the center of it.
RG: Yeah, we have all the public meetings here. Anytime there's something that comes up, the people come in here. People collect their Mail from here, and like a fire truck and stuff. See the Firehouse right next to the highway here, next to the cabins and that was all built by the community. We had a big meeting after one of the neighbor's houses burned down and everybody was up in arms because the fire truck that was parked here was winterized. It was a wildland fire truck, so it was not designed to be, or intended to be usable in the wintertime. Well they decided that we would put up a building and so we went to the County commissioner, told him what we had going, and they said that they would heat the building and put the fire truck inside of it. We've had fire coverage since then. Not enough to be recognized by an insurance company but we had people who needed it and they made it happen. A lot of the neighbors are sort of designated to drive that truck and every year we have a school for anybody who is interested in learning.
Everybody that is here any length of time, or very often, knows they are a member of the Checkerboard Volunteer Fire Department and when there is a fire call, I will empty the bar and ask any able body man to go – and everybody goes.
TR: How has the Covid shut down affected you?
RG: It was at our slowest time of the year, so we just locked the door and didn't worry about it. Anybody that wanted anything gave us a call and we would cook for him or whatever. Now we're open and Memorial Day was pretty good considering we're still in this partial close down and the people are still reacting to the code. Other people, you know, were getting a bit stir crazy.
TR: I guess they're getting out on the water again now; I see it down there on the reservoir, people fishing:
RG: Oh yeah there's a lot of fishing and it's good. It's been good fishing on Bear, and then there's Dead Man's Basin, Larchdale and Sutherland and Newland Creek that are all within traveling distance from here. All very good lakes.
TR: So, you could come and stay here for a few nights and have a bunch of different lakes for those who want to fish or just get out of the water.
RG: Yes, there are many good opportunities close by and we have everything you need right here. I tell people all the time, we may not have everything you want, but we have everything you need!